Catholic Church of Montreal continues collaboration with Camden
Ad campaign focuses on personal dedication of volunteers in times of crisis
Montreal, November 13, 2020 – The Catholic Church of Montreal has launched an advertising campaign in both English and French that shines a spotlight on four real individuals who are making a difference in their communities. Under the headline On a mission, this series of ads is running on Facebook and Instagram in a variety of formats.
The On a mission campaign is the third created by Camden for the Catholic Church of Montreal, following the Easter 2019 Finding your way campaign and Easter 2020's pandemic-centric Hope springs eternal campaign.
Camden's creative team developed a short, memorable headline paired with gritty, intense visuals and a call-to-action that requests donations to provide resources to the Church's volunteers who in turn help those less fortunate.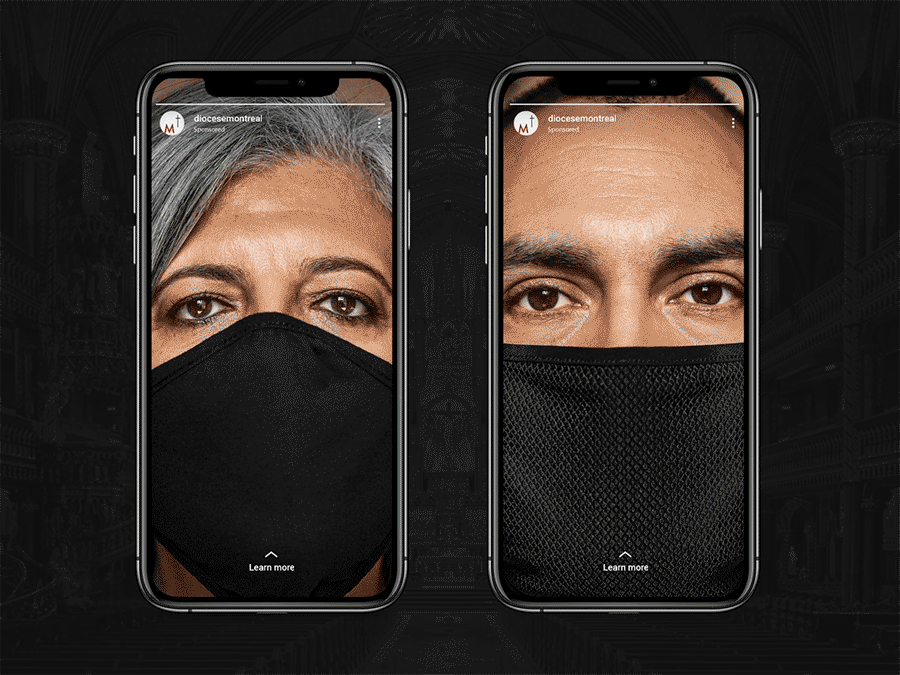 With Montreal public health guidelines still in place and no end to the pandemic in sight, a choice was made to feature the expressive eyes of the volunteers. The masks they are wearing help draw attention to the headline and to the body copy that describes each person's involvement. A second flight of the campaign showing the same subjects without their masks is planned for 2021.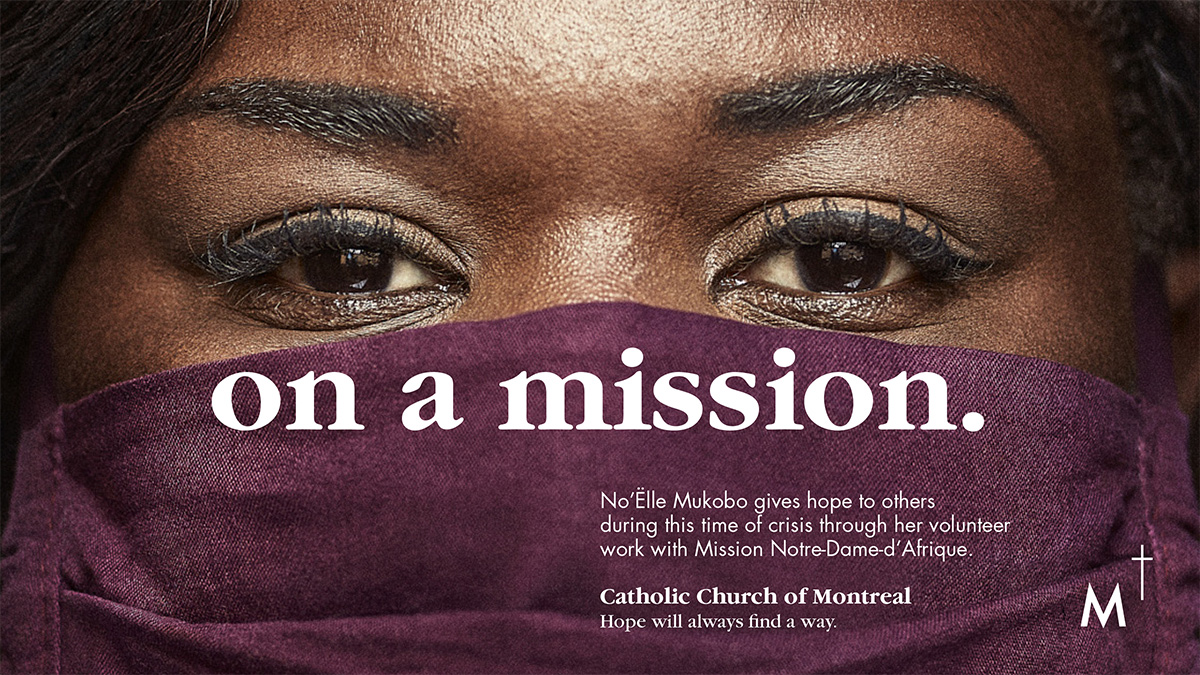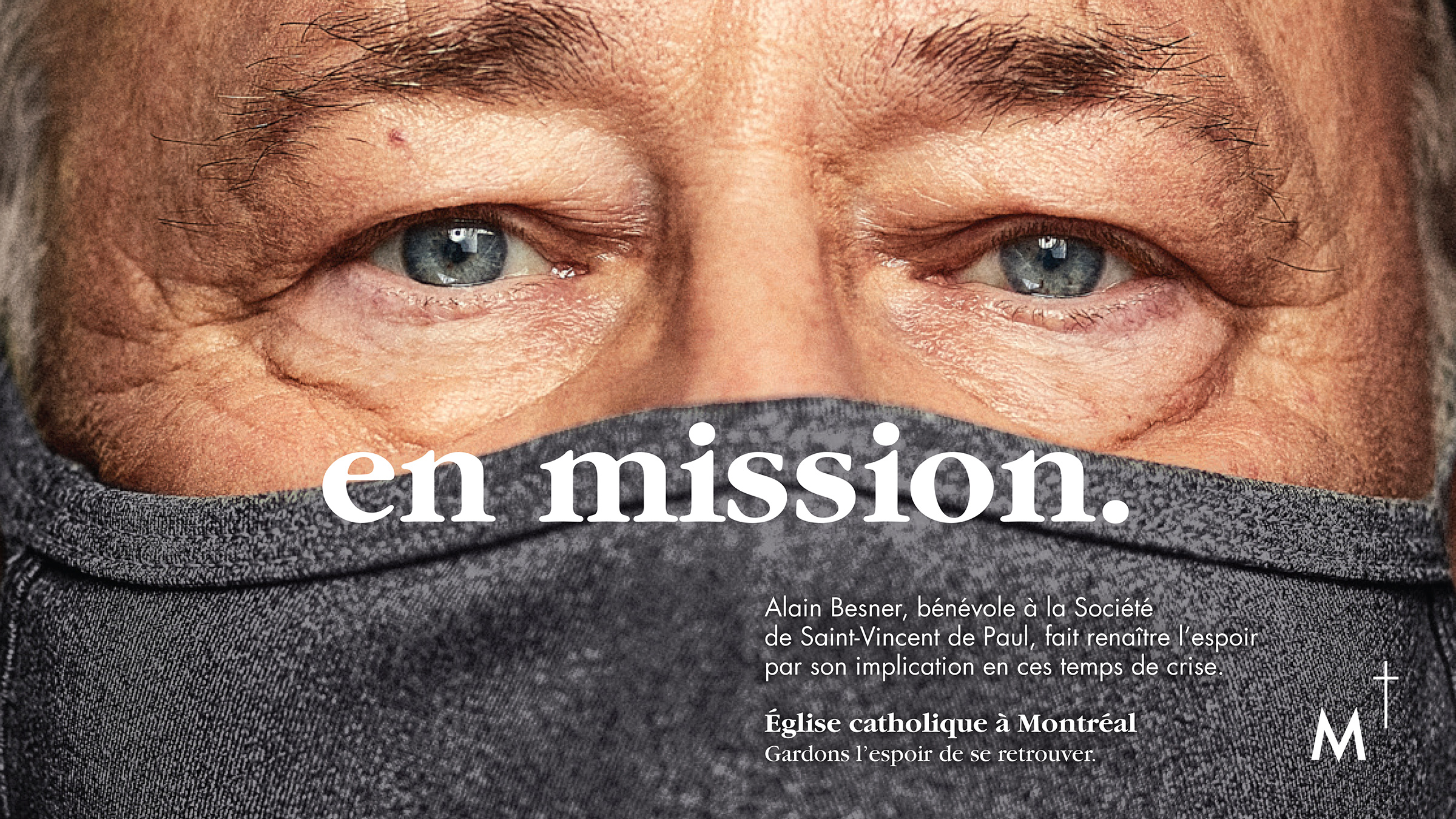 "With the new On a mission campaign created in partnership with Camden, our intention was to seek out the public in its new gathering place: digital platforms," stated Erika Jacinto, Director, Communications and Media relations for the Roman Catholic Archdiocese of Montreal. "The message of On a mission is conveyed in an intelligent fashion by four committed individuals engaged in the Church wearing masks. The viewer identifies with them and feels reassured and comforted since they share this reality. In fact, the spiritual dimension is an integral element of the person, and in the Church, our hearts are always open to the call to move calmly and bravely onwards through the adversities presented by this pandemic or by any other test. Congratulations, Camden, with our thanks for your help in getting this message across perfectly!"
Credits
Client: Erika Jacinto
Client services: Gabrielle Lusignan, Pierre-Luc Langlois
Media strategy and planning: Brooke Verbeek
Campaign management: Pratik Mistry
Media coordination: Varun Pillai
Creative direction: John Dutton
Copywriting: Susannah Rubin, Mathieu Chabot
Art direction and design: Fred Roy
Motion design: Éva Ducharme
Quality control: Cristina Marziale
Production: Kristia Louis-Seize
Photography: Félix Renaud
About the Archdiocese of Montreal
The Archdiocese of Montreal comprises a populous urban territory that includes the islands of Montreal and Laval, plus the municipalities of Repentigny and l'Assomption. Its 200 parishes and missions are home to 1.5 million Catholics. Archbishop Christian Lépine is the tenth bishop and eighth archbishop of Montreal, since the founding of the diocese in 1836. The diocese embodies a multicultural richness unique in Quebec, which includes some 24 different cultural communities, coming from all corners of the world. In addition, many religious communities along with their associate lay members, and monastic communities contribute greatly to the vitality of the diocese. For more information, visit www.diocesemontreal.org