Essential SCFP-Québec workers honoured in mass media campaign
Provincial division of CUPE spotlights public-facing members during COVID-19 crisis
Just days before the Easter long weekend, SCFP-Québec, the provincial division of Canada's largest trade union, asked indie advertising agency Camden to strategize, produce and roll out a mass media ad campaign within the context of the current COVID-19 crisis. The television, online video, and interactive campaign salutes the essential work done by SCFP members across all 11 of its sectors, including health and social services, air and maritime transport, media and telecommunications, Hydro-Québec, and municipal workers.

Over a soundtrack of original music recorded – appropriately in his own apartment – by Quebec composer Jean-Michel Blais, the flagship 60-second TV commercial features pre-existing footage of SCFP members supported by stock video. Camden scripted and directed the ad in-house in under one week from initial request to delivery, requiring highly focused remote teamwork and collaboration with agency staff, clients, and production partners.
The advertisement highlights the sacrifices made by public service employees whose work often goes unnoticed. It ends with a call-to-action for everyone to join SCFP members in becoming essential by respecting COVID-19 guidelines.

"We wanted to salute essential workers and, more than ever, we see how vital our public services are," commented SCFP-Québec president Benoit Bouchard. "A society with a sturdy safety net and healthy public services is a society that's able to absorb shocks and then and bounce back. Once the crisis is over, we mustn't forget this lesson."

Camden developed the campaign's media plan and executed the ad buy from its Toronto office. A 30-second edit of the TV ad and a 15-second pre-roll version for online video were also produced to round out a media strategy that includes prime-time spots in hit Quebec shows such as Tout le monde en parle and Ça va bien aller, plus full-screen visibility in the interactive LaPresse+ app and unskippable video on tou.tv and other online channels.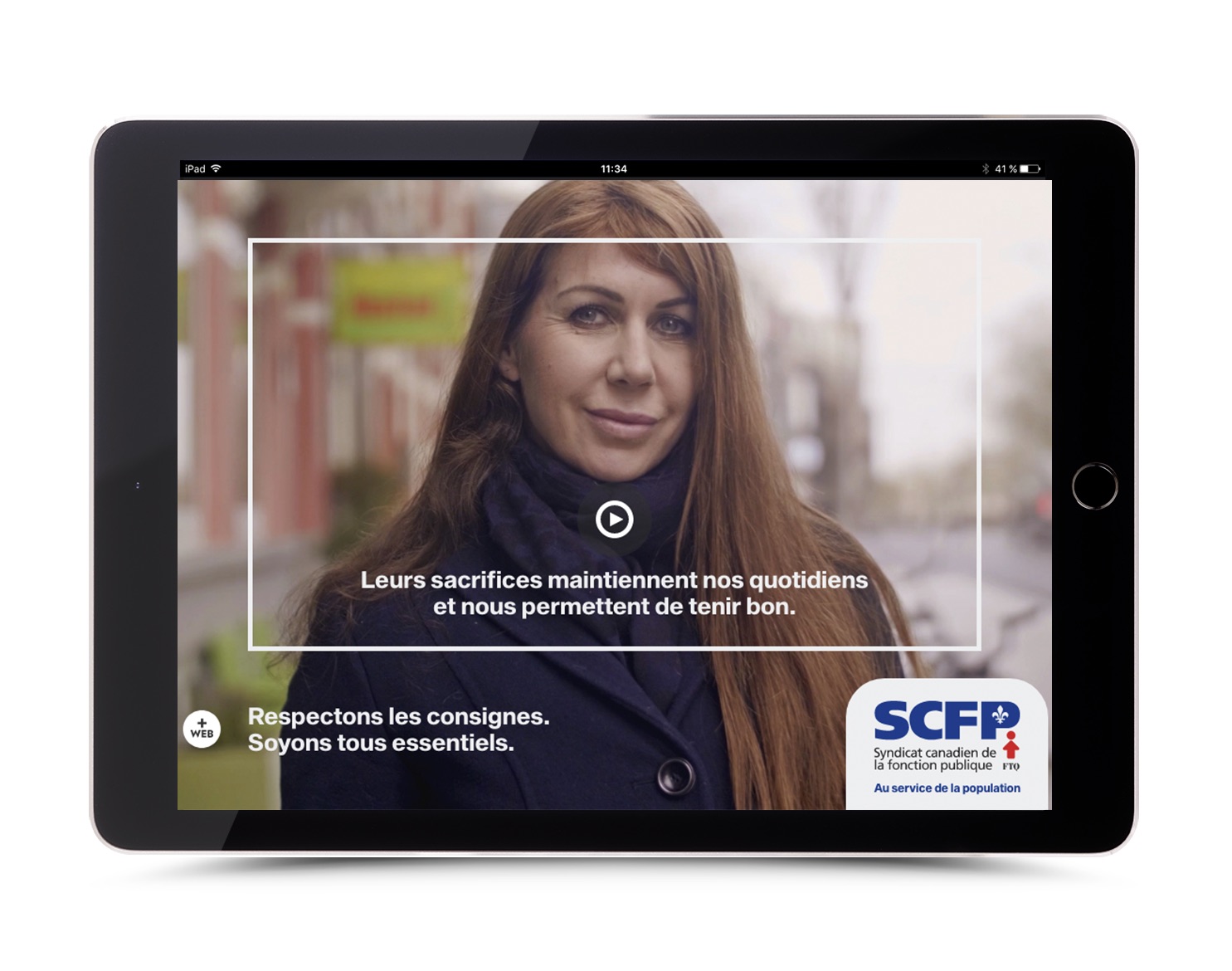 About SCFP-Québec
With around 122,000 members in Québec, the SCFP covers 11 sectors: health and social services, communications, education, universities, energy, municipalities, government corporations and agencies, air and ground transport, mixed sector and maritime transport. It is the largest union affiliated with the FTQ.

Credits
Agency: Camden
Client: SCFP-Québec: Lisa Djevahirdjian
Strategy: Mathieu Bédard, John Dutton
Media strategy: Camille Poulin
Creative direction: John Dutton
Client services: Valérie Fleury
Copywriting: Mathieu Bédard
Art direction: Éva Ducharme, Fred Roy
Producer: Geneviève Boyer
Directors: John Dutton, Éva Ducharme
Media coordination: Jeanne Kirouac
Editor: Martin Bourgault
Post-production: Outpost
Audio: Jean-David Perron
Music: Jean-Michel Blais