Camden spotlights integrity for the Ordre des agronomes du Québec
Montreal, October 20, 2020 – The Ordre des agronomes du Québec has entrusted Camden with a campaign to raise awareness and promote usage of the Order's legally reserved title among the 3,000 agronomy professionals it represents.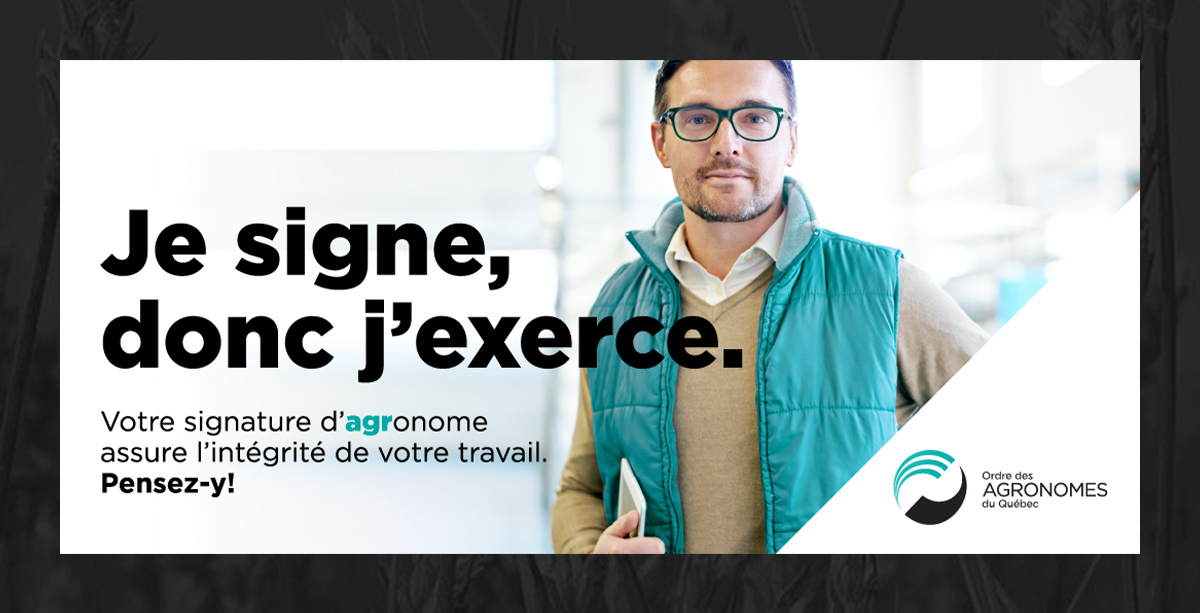 Driven by the tagline "Je signe, donc j'exerce." (I sign, therefore I practise.), the campaign is intended to educate OAQ members on the importance of using their reserved title when signing communications as a seal of professional excellence and integrity. The campaign will be deployed via the OAQ's newsletter, website and other channels intended for members.  
"It was truly a pleasure working with the Camden team," said Laurence Therrien, Head of communications and public relations for the Ordre des agronomes du Québec. "They understood what was at stake right away and were quick to come up with an inspiring creative solution. The result was very effective." 
This new collaboration is only the latest in a series of mandates with professional orders. 
In the past year, Camden has helmed projects for the Ordre des denturologistes du Québec, the Ordre des administrateurs agréés du Québec, the Ordre des traducteurs, terminologues et interprètes agréés du Québec, the Ordre des technologues en imagerie médicale, en radio-oncologie et en électrophysiologie médicale du Québec and the Conseil interprofessionnel du Québec.
Credits
Client: Ordre des agronomes du Québec
Client services: Gabrielle Chartrand
Creative direction: John Dutton
Copywriting: Mathieu Chabot
Art direction: Frédéric Roy
Design: Stéfanie Simard