Camden launches new brand platform, website and agency manifesto video
Suite of new marketing materials support group's 2018 international expansion
Camden is proud to announce the launch of the agency's new brand manifesto video, website and redesigned suite of marketing materials, developed around the theme of "Do you have the courage? We have the audacity." The new theme and creative platform were helmed by John Dutton, VP Creation and partner and Didier Plantard, Head of Design at the agency's Montreal office. Management, creatives and strategists across Camden's Montreal, Toronto and Lyon offices also played key roles in the brand makeover, while Rodolphe Chambon, Creative Director in the Lyon office, directed the agency's brand manifesto video.
 
Invitation-only soft-launch events for the agency's Canadian and French clients and business partners were held mid-September. Work on the project began late 2018, with an audit of every client touchpoint serving as a springboard to promote the agency's Pivotal thinking positioning and the group's expansion into new local, national and international markets.
Transatlantic teamwork
A prime example of Camden's multi-faceted capacity as a full-service agency, the new website was produced in-house from A to Z, with continuous collaboration between creatives and designers in the Lyon office and their colleagues in Montreal and Toronto who worked on strategy, programming and integration. Creative copy was written in English and French in parallel in Montreal, with the goal of creating a superior user experience for visitors from North America and Europe. The new website features more content, more work and more videos, all with an intuitive interface for seamless reading of the agency's full-service offering and client portfolio.
 
"I'm especially proud to have witnessed the genuine commitment and collaboration across the organization as this amazing project came to fruition," commented Mathieu Bédard, Groupe Camden CEO. "In addition to creating the world-class marketing materials that an indie agency group like ours needs, the project has also served to build and strengthen the genuine connections between Camden's talented cross-disciplinary experts. It illustrates perfectly how we've grown together – and what we've become. As the Camden group expands, teamwork and talent will be the key to our success; I couldn't be happier about how far we've come and what the future holds."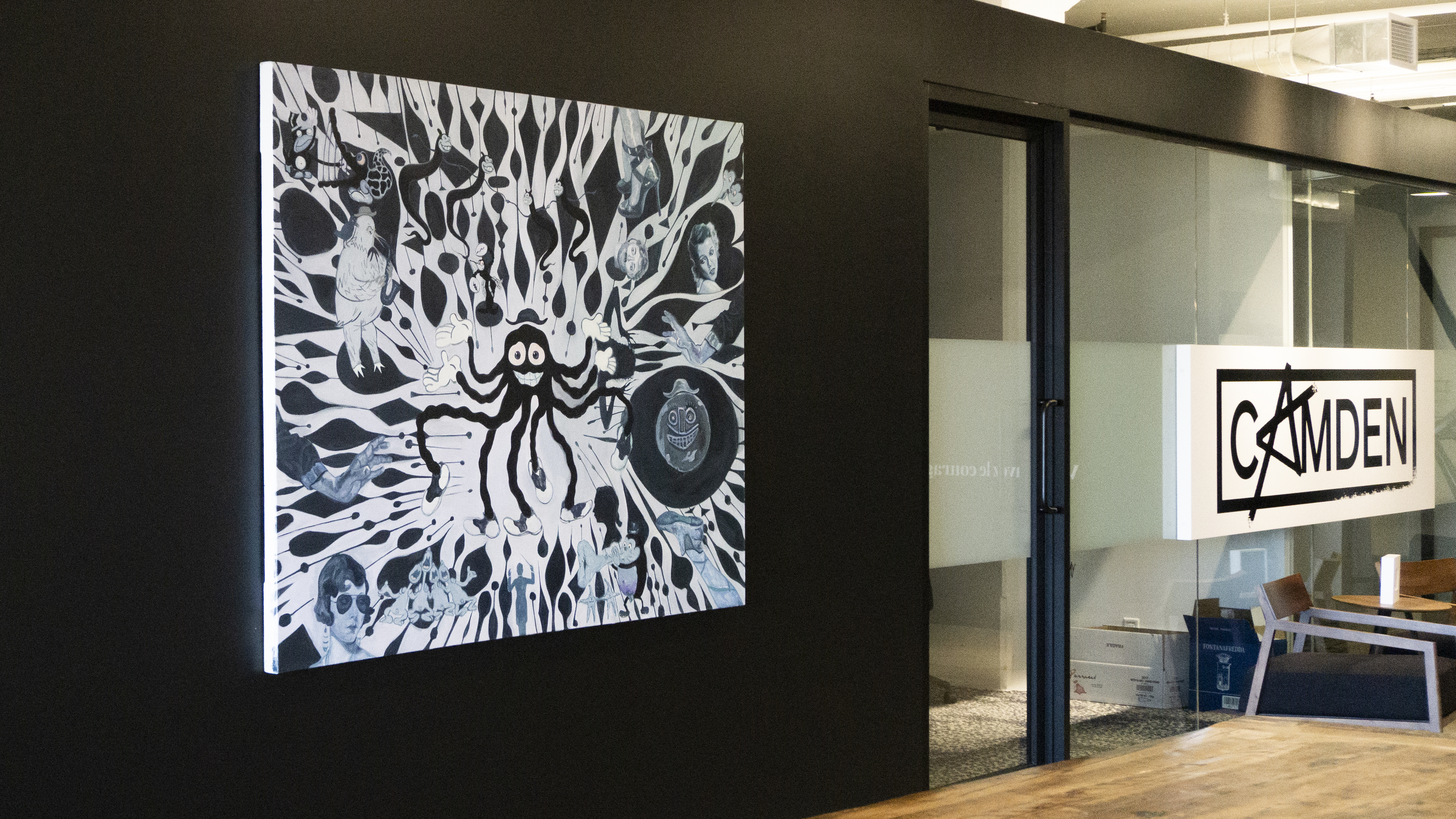 Matching interior design features, updated reel and agency culture videos
Various interior features of the Montreal office have changed as part of the project. A film inspired by Pivotal thinking is now permanently projected in the reception area, while a painting by Mile End artist Rory Dean (LNDMRK agency) has been purchased and put on display in the adjacent common area as an addition to the Camden art collection. The agency reel and Camden culture videos have also been updated, as well as the agency's print brochure and HR marketing brochure. Further interior design initiatives will see the light of day in the Toronto and Lyon offices over the coming months.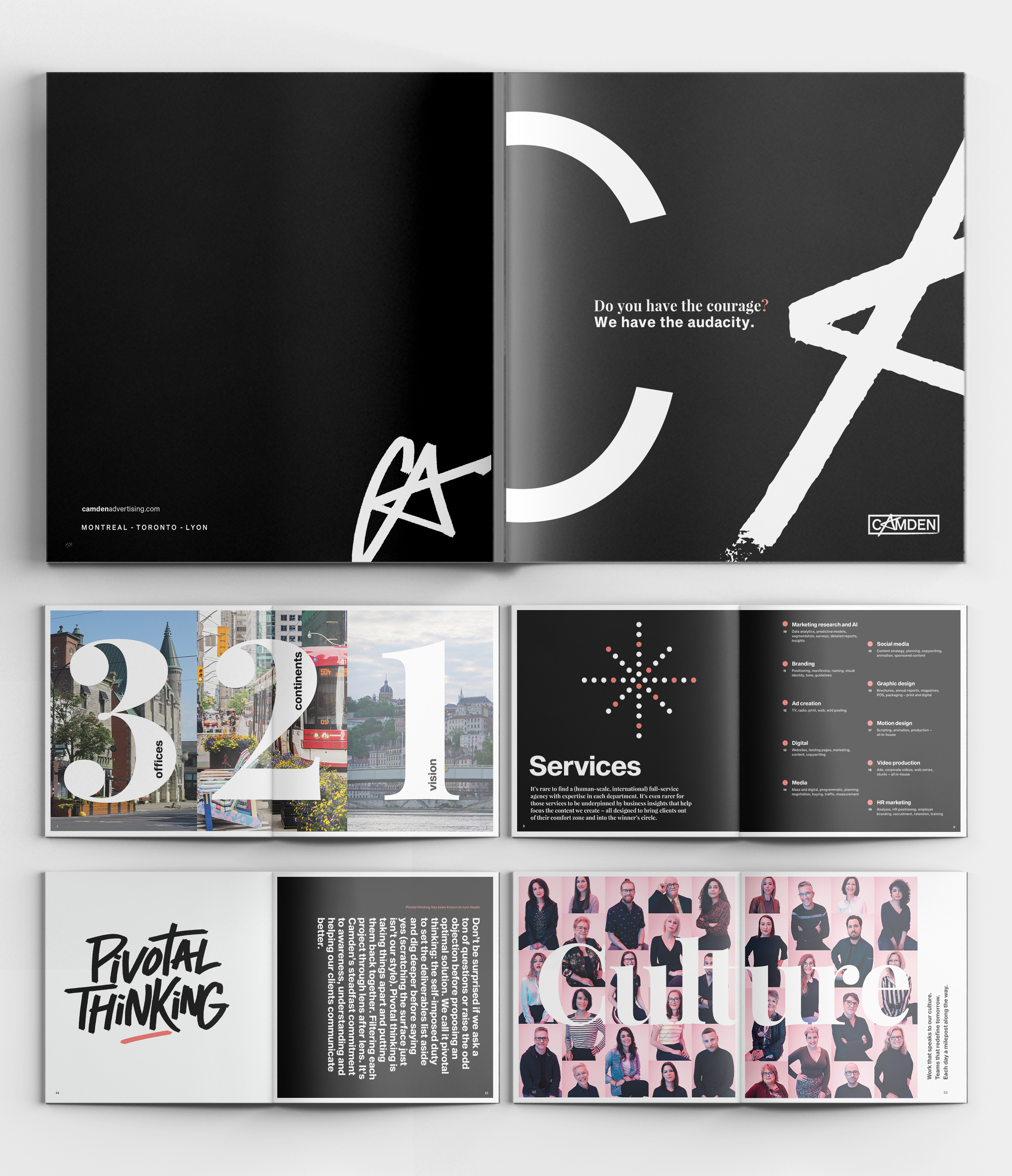 New social media strategy
Camden already creates content and buys social media for a slew of clients, so updating the agency's own strategy was the final logical step in the rollout of the new brand platform. A new content strategy will therefore be put in place across the agency's Facebook, Instagram and LinkedIn accounts over the next few days. Not only will these channels promote and position Camden's growing international brand, they will also bolster the agency's highly effective employer brand that continues to attract talent from around the world.
 
Credits 
Creative Director: John Dutton
Copywriters: Susannah Rubin, Mathieu Chabot, Luna Dansereau
Director – agency manifesto: Rodolphe Chambon
Head of Design: Didier Plantard
Designer: Frederic Roy
Web designers: Lionel Farget, Brice Barta, Lucile Coche
Strategists: Fanny Mounier, Yara El-Soueidi, Camille Poulin
Project manager – marketing materials: Billie Gagné-Lebel
Project manager – website: Camille Morin, Naïma Benbrik
Programmer: André Proulx
Integrators: Jessie Gladu, Caroline Perrin
SEO audit: Rablab
Brand manifesto sound design: Cult Nation
Montreal and Toronto team photos: Consulat
Lyon team photos: Julien Malabry (Poltred)
Editor – agency reel: Martin Bourgault
Editor – agency culture video: Susannah Rubin
Director – Pivotal thinking Montreal office reception: Éva Ducharme
QA and editing: Christiane Rioux, Isabelle Vialle-Soubranne