Camden focuses on fun for Eyezen+ Kids lenses by Essilor
A Canada-wide launch campaign for a unique product
 
Essilor has chosen Camden for the ideation, creation, production and rollout of the launch campaign for its new Eyezen+ Kids product for children aged six to twelve. Because this group has experienced major lifestyle changes that have led to more frequent use of their eyes for objects that are closer, and an increased exposure to harmful blue light, Essilor has made significant investments in research to develop the only children's lenses that address these issues. The lenses are designed for the unique facial features of children, which result in different gaze directions and viewing distances when holding objects in their hands. Eyezen+ Kids lenses also include protection against harmful blue light.
 
The launch targeted Essilor clients across Canada, as well as the thousands of children and their parents who visit eyecare professionals. The goal was to establish this product as the gold standard in the children's lens market. To accomplish this, Camden  produced a range of marketing tools that have utility for eyecare professionals while also appealing to children with a dose of fun. Opticians received a special kit that includes technical brochures and counter display cards to help with product recommendation, with a reverse side featuring an origami game for kids to create their own pair of superhero glasses. The mail-out also contained a sheet of cute eye-themed stickers for younger children. The kit fulfilled its purpose of engaging little ones while conveying clear information about an innovative product to maximize the consumer experience.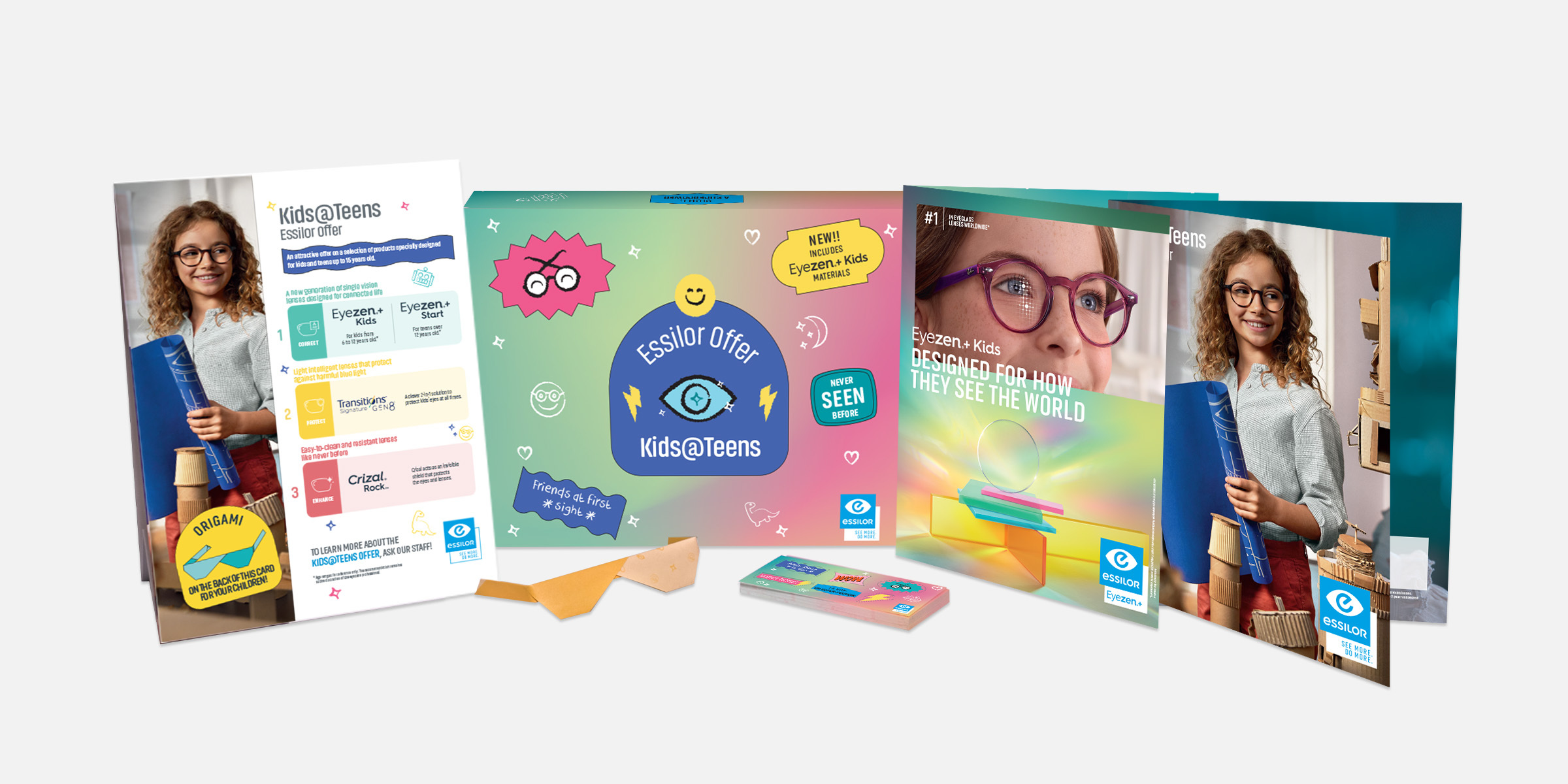 Virginie Testaud, Account Director at Camden's Montreal office, commented, "We are really proud that Essilor has once again showed its confidence in us after so many years of a productive agency-client relationship. Everyone here feels especially good about helping launch a product designed for children's eye health."
 
"It's a pleasure to work with Camden's teams because by now they know our company and the optical industry inside out," commented Marie-Amandine Servant, Brand Lead at EssilorLuxottica. "The team who worked on this project very quickly grasped our expectations, the product itself, and ultimately what we were hoping to bring to wearers. We believe that the children's segment deserves more attention, and this project is only a beginning. Camden's creative proposal, both in terms of originality and the tools that were developed, have clearly enabled us to stand out and bring something truly positive to the table, as much for eyecare professionals as for parents and their children."

Client: EssilorLuxottica: Marie-Amandine Servant
Proudly created by Camden