Camden brings a human touch to Collège Jean-Eudes' virtual open house
A new user-friendly platform for 2021
Montreal, May 19 2021 - Camden recently completed a high-tech transformation of Collège Jean-Eudes' virtual open house platform, highlighting their unique brand identity by improving the user experience.
Adding a human touch to its new platform was Collège Jean-Eudes'  way of adapting to the current digital context. In an effort to replicate the experience of an in-person open house, they turned to Camden, who developed a marketing campaign based on existing materials, all while pushing new messaging created by the agency: "L'excellence par l'épanouissement" (Empowered to excel).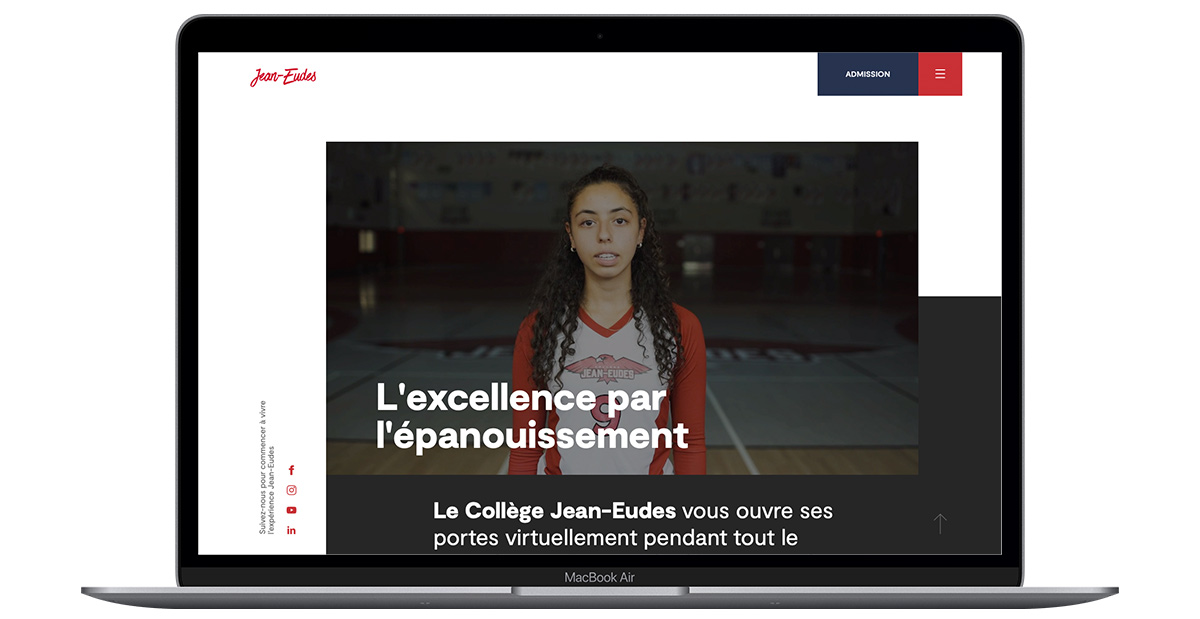 Under a tight deadline to deliver a top-notch experience for parents, Camden repurposed content to fit the brand's new positioning and redesigned the online open house interface to make navigation easier.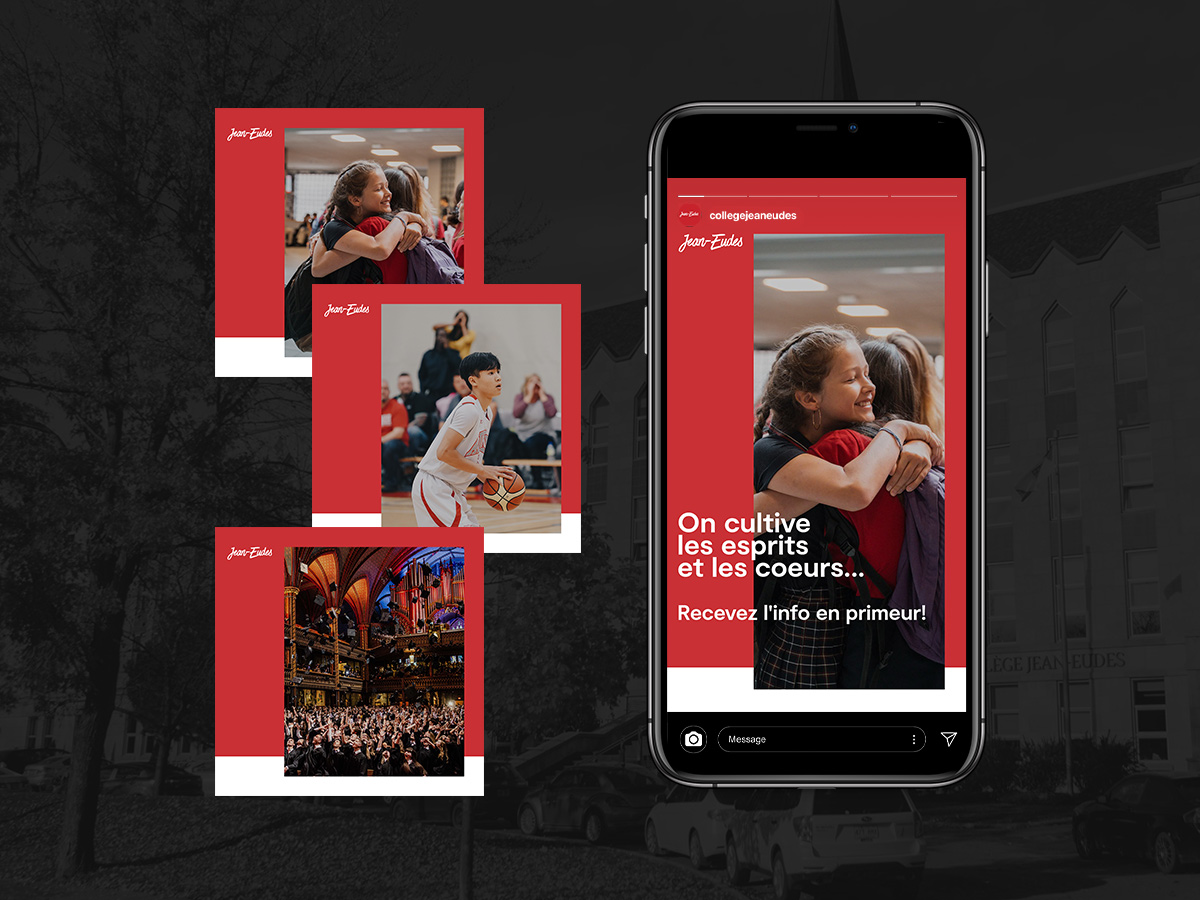 Camden re-edited video footage of well-known Quebec actor and Collège Jean-Eudes alumnus Thomas Delorme to inject a bit of humour into a series of short informational videos. Through the VideoAsk platform, users are led on an interactive guided tour of the school with plenty of content available along the way. Improved functionalities, a new landing page, and well-designed CTAs give users quick access to information about the Collège.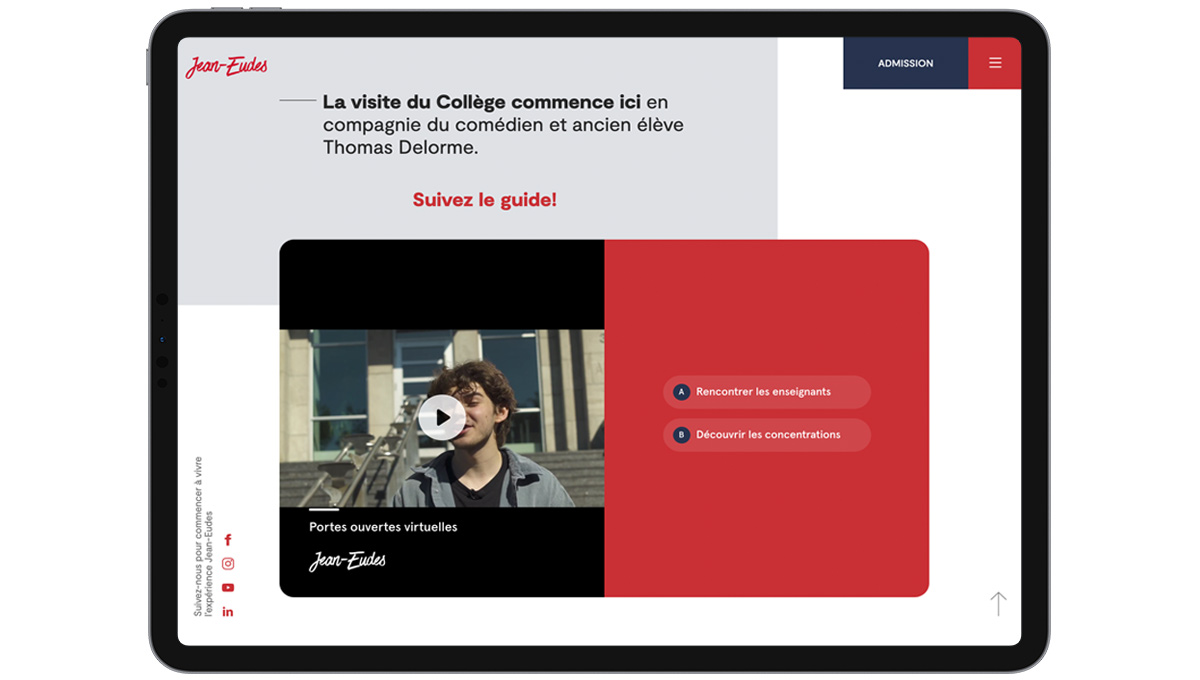 "In the current context, we want to continue providing excellence in education. That's why we wanted to offer future students and parents a renewed open house experience. The team at Camden managed to convey the school's spirit in a way that spoke to prospective and future students," stated Dominic Blanchette, General Director at Collège Jean-Eudes. "The microsite created by the agency engaged with our audience and gave them the chance to live the Jean-Eudes experience remotely."

In order to generate traffic to the site, Camden is running a highly targeted media campaign on Snapchat, Facebook, Instagram and La Presse+ throughout the month of May.

About Collège Jean-Eudes
Jean-Eudes is a co-ed, private francophone high school located in the heart of Montreal's Rosemont neighbourhood. In 2020–2021, the school had an attendance of close to 1800 students. Collège Jean-Eudes continues to provide students with the environment they need to excel.
Credits
Client: Collège Jean-Eudes, Jean-Baptiste Berthier, Communications Manager, Dominic Blanchette, General Director
Account Director: Angélique Boulet
Creative Director: John Dutton
Media Strategist: Camille Poulin
Marketing Strategist: Marc Minart
Art Director: Fred Roy
Copywriter: Victoire Pottiez
Digital Project Manager: Naïma Benbrik
Web Programmer: André Proulx
Web Integrator: Jessie Gladu
Graphic Designer: Félix Crépeau
Proofreader: Cristina Marziale