Camden brands eco-friendly fiber leader Sustana
Camden Advertising has created the branding for Sustana Group, a holding company that provides a comprehensive closed-loop sustainable fiber solution, with facilities in De Pere, WI, and Lévis, QC.
Camden was initially tasked with finding a name for the company. The word "Sustana" was coined to reflect the company's commitment to continuous improvement and environmental stewardship – by innovating solutions that are better for business, better for the environment and better for society. A logo and style guide were then developed to support Sustana's ongoing marketing activities.
"Camden was involved in branding Sustana from the beginning of the process. From logo design to market research and the brand launch," said Michele Bartolini, Senior Marketing Director at Sustana Group. "What started out as a complex brand architecture was simplified with the help of strategic insights from Camden. The naming and design process have produced a brand presence that reflects Sustana Group's leadership as a supply chain partner for any customer with a sustainability mandate."
Camden's next job was to find a name for Sustana's groundbreaking FDA-compliant post-consumer waste pulp product. Sustana's De Pere facility manufactures 100% post-consumer recycled fiber that is FDA compliant for use in direct food contact packaging at 100% inclusion. The portmanteau word created by Camden was EnviroLife, an evocative brand identity for a product developed with the goal of reducing environmental impact in the food service industry.
An initial closed-loop partnership project between Sustana and Starbucks was rolled out in late 2018, a first step toward making the EnviroLife brand a responsible choice for food service businesses seeking to improve their environmental footprint. Sustana's pivotal role was using old Starbucks cups as raw material to manufacture EnviroLife 100% recycled, FDA-compliant fiber in an economically viable manner.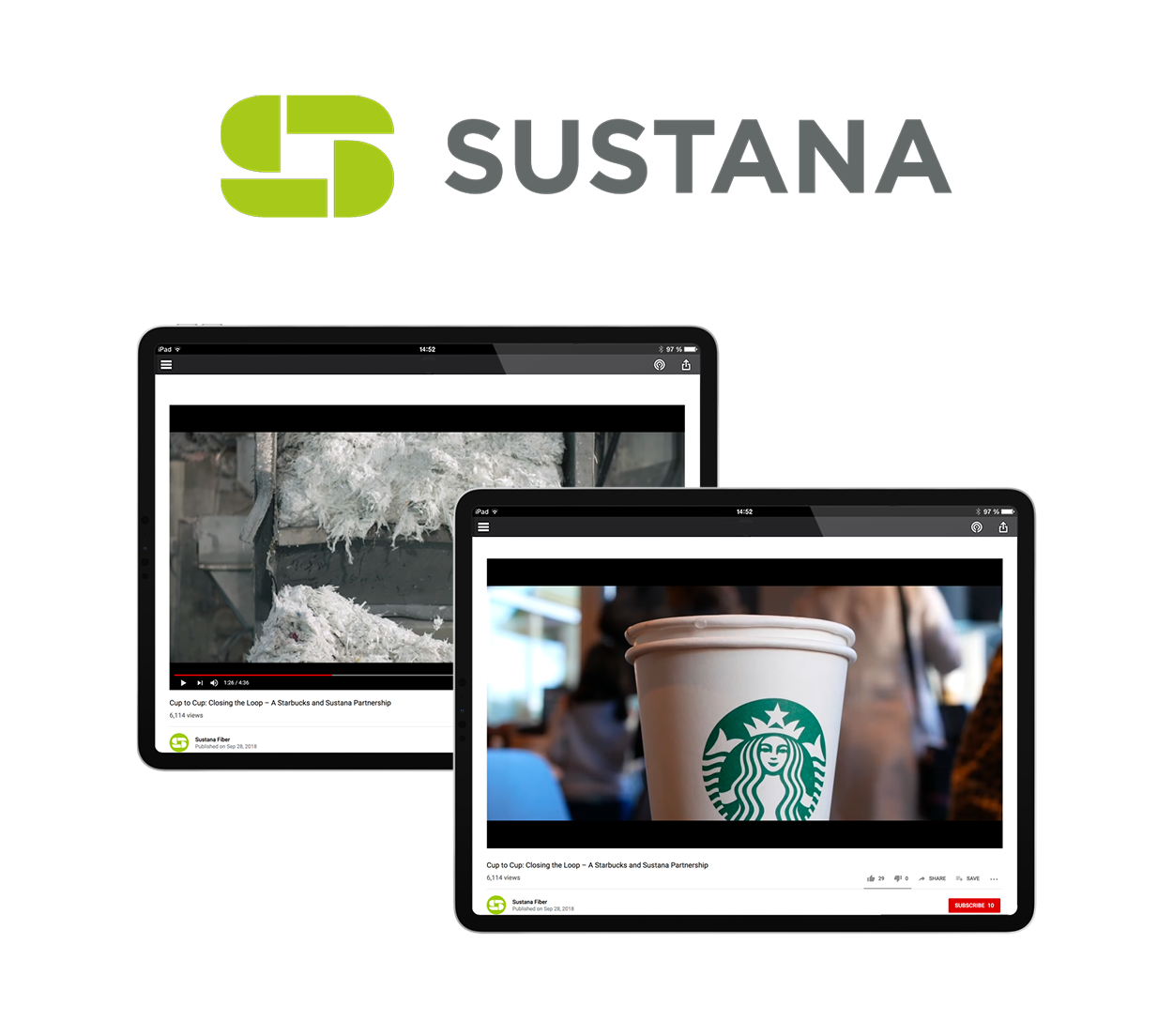 About Sustana
Sustana Fiber, a leading producer of FSC® certified, recycled fibers, takes its role as a steward of the environment seriously. They use highly automated proprietary processes to efficiently turn post-consumer waste into the highest quality recycled fiber for use in the production of FDA-compliant foodservice packaging, printing papers, tissue, and formed fiber packaging. Sustana's recycled fibers facilities are based in De Pere, Wisconsin (USA) and in Lévis, Quebec (Canada). Sustana Fiber is proud to provide a comprehensive recycled fiber solution for customers throughout North America. For more information, visit https://www.sustanagroup.com/.
Credits:
Client: Michele Bartolini
Creative direction: John Dutton
Copywriting: Susannah Rubin
Art direction: Didier Plantard
Client services: Gabrielle Lusignan